Goldrange Resources Shareholder Update December 2021
December 28, 2021
TORONTO, ONTARIO, December 28, 2021 – Goldrange Resources Corp. ("Goldrange" or the "Company") would like to thank all shareholders who embarked on this early journey with us. When the Company was first created, we asked that you believe in our vision that we would transform our early-stage exploration company with one property in hand to a resource company with a strategic portfolio of highly prospective gold projects.
Fast forward a few months after our initial seed round, we have done just that and are pleased to announce the following catalysts which now sets us on a new course within our company's evolution. Notwithstanding the barriers imposed by the Covid19 pandemic, the last 12 months have seen us undertake several initiatives towards increasing the value of the Company's assets and planning the growth of the resource base.
Summary and milestones of our properties include:
Rights to the Ghanaian project were relinquished as we identified and acquired two advanced projects in Côte d'Ivoire specifically: La Debo and Tienko and one highly prospective project in Tanzania. This allowed us to dedicate our efforts on more mature drill ready projects. The La Debo project has a NI 43-101 compliant gold resource and PEA.
Côte d'Ivoire:
JV option agreements were secured on the Tienko and La Debo Projects situated within the prospective West African Birimian Greenstone Belt, host to numerous world class gold mines. In both cases Goldrange has the option to acquire 100% of the projects (exclusive of State free-carry).
La Debo: Our flagship La Debo Brownfields Project acquired in December 2021 adds considerable value to the developing Goldrange portfolio.
Multi-million oz potential
An initial unconstrained (non-compliant) resource of 860,000 oz gold was calculated by previous owner, Pangea Exploration, on 2 of the 9 target corridors.
A comprehensive NI 43-101 compliant Mineral Resource and PEA was completed in 2016 yielding a mineable pit constrained resource of 9.5 million tonnes grading 1.3 g/t for 396,000 oz, inclusive of 210,000 oz gold in free dig, easily recoverable surface oxide material.
Significant gold mineralization delineated on other La Debo target areas warrant further work.
Our intention is to fast track La Debo with the goal of growing the compliant resource base as quickly as possible. Data collation of new results and remodelling by Goldrange geologists have facilitated the design of an impending drill program which is expected to commence in early-January 2022. This represents a unique opportunity to add shareholder value in a short period of time.
Tienko: Exploration by Goldrange commenced in the fourth quarter of 2021 and has focused primarily on areas where previous owners drilled more than 30,000 m and confirmed a 10 km gold mineralised corridor. Encouraging grab sampling results from recent fieldwork have allowed us to identify additional targets which will be investigated in the forthcoming campaign. Activities conducted in 2021 included:
Significant gold mineralization constrained within well-defined structural corridors
Review of all legacy data and activities to date for the compilation of a NI43-101 compliant Technical Report (30 September 2021)
Re-modelling of drill and sampling data together with newly acquired regional magnetic data to design a trench and the strategically planned 10,000 m RC and DDH drill program.
Drilling has commenced (December 2021) with 2 drill rigs working double shift to accelerate the program. Legacy drill results will be verified with twin drill holes and additional intersections will grow the resource base. New sample assay techniques will be tested.
Reconnaissance exploration of 340 soil samples has been completed (December 2021) on the adjacent Ferke permit and these samples are in the process of being assayed in Yamoussoukro. The Tienko Option Agreement includes the right to acquire an earn-in interest in the Ferke Project.
Tanzania:
In keeping with our strategy of building a robust and diversified gold portfolio by adding value through identifying unique highly prospective projects, we have acquired an option to earn 100% interest (exclusive of State free-carry) in the Tanzanian project, Golden Heights. We are taking a long-term view with respect to this project as we believe the tremendous potential more than mitigates any short-term return. Our reconnaissance site visit has confirmed the presence of significant high grade, vein hosted gold mineralization at depth with values up to 35 g/t gold.
Situated within one of the prospective Greenstone Belts of Lake Victoria Goldfields, host to numerous multi-million ounce gold deposits. Strong soil anomalies were initially identified in 1995 by previous owners. This information was leaked from company reports which triggered Tanzania's biggest recorded artisanal gold rush of 250,000 local diggers!
The geological setting of this deposit is similar to Bulyanhulu (17 million ounces gold mine at 8 g/t) to the east of this deposit and has a similar history to Bulyanhulu where artisanal mining initially depleted all gold close to surface.
Barrick Africa (later called Acacia) acquired the licences and drilled the southern zones in the early 2000's. The northern artisanal extensive 'worked-out' areas were never drill tested at depth. In 2016 Fenites, a private Tanzanian company, secured the relinquished Golden Heights licence.
The 2017 revised mining legal framework was all but investor friendly, causing uncertainty and mass withdrawal from Tanzania by the international mining sector. A solid legacy association with Fenites founders together with Goldrange's ability to take calculated risks in difficult times, put us in good stead to quickly realise the potential of this hidden gem.
The newly appointed President Samia of Tanzania is encouraging foreign mining investment to Tanzania. (Orecorp granted special mining licence at signing ceremony in December 2021, after many years of authoritarian handling by previous president). We are therefore extremely lucky to have added this potentially multi-million ounce gold project to our portfolio. We look forward to working with our influential and strong local Tanzanian partners who have vast experience in the mining industry.
A site visit is in progress to assess the participation of registered claim (PML) holders. Priority focus is on designing a proof-of-concept drill program expected to commence in February 2022. Local JV company registration is nearing completion and the two prospecting permits are in the process of being transferred into the new JV company.
New Financing Details:
The Company will be facilitating a private placement financing round before an expected sub-receipt round. We welcome all current shareholders and new strategic investors to continue to participate in the upside as we evolve the Company towards its public listing aspirations.
Details of the financing terms and subscription agreements will be shared with all shareholders shortly.
Goldrange's Strategy:
Maintaining a low-overhead model whilst dedicating all of our efforts on advancing our 3 exciting projects up the value curve.
Embarking on aggressive fast tracked drilling campaigns whilst maintaining a high standard of responsible exploration practices.
Leveraging the experience of management, advisors, and board of directors, all of whom have extensive economic ore-resource skills and/or deep industry connections to advance our strategy of adding value through developing highly prospective projects.
In addition, Goldrange has strengthened the Management Team with two new appointments;
Helen Pein (CEO) and Dr. Lynnette Greyling (VP Exploration), both of whom have extensive experience in gold exploration in Côte d'Ivoire and Tanzania. Joseph Arengi, the Company's previous CEO, will remain with the Company as a consultant and technical advisor.
The abovementioned acquisitions support our corporate vision of building a robust portfolio that will add shareholder value in the near term and over time. We are very excited to have amassed within a short period such highly prospective projects in our portfolio.
Helen Pein, CEO
Goldrange Resources Corp.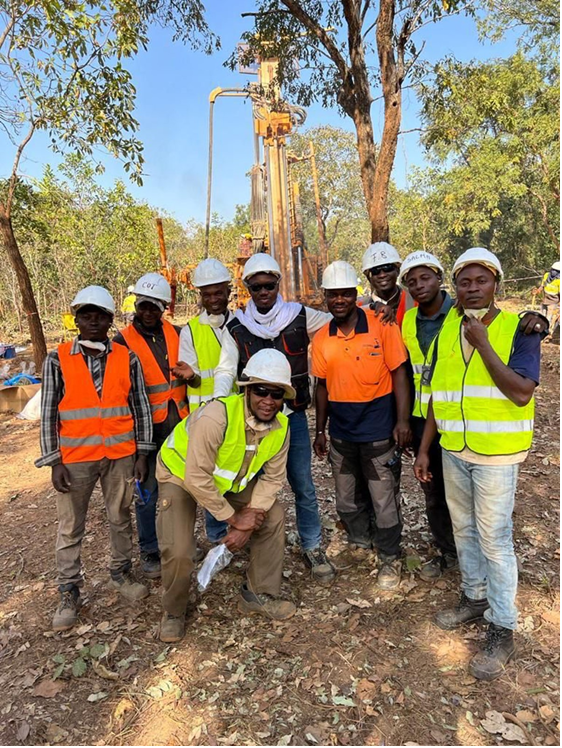 Drilling at Tienko commenced in December 2021
About Goldrange Resources Corp.
Goldrange is an acquisition driven private resource company with a well funded treasury and a focus to quickly assemble a portfolio of highly prospective projects. The Company's initial focus is on gold projects in Africa and is well positioned to pursue opportunities in other jurisdictions,
Qualified Person Statement
Joseph Arengi, P. Geo., CEO of the Company is the Qualified Person as defined by National Instrument 43-101 and has reviewed and approved the scientific and technical information in this news release.
Investor Relations
Sandy Noyes
On Behalf of Goldrange Resources Corp.,
Helen Pein
CEO
Forward-looking information
This news release contains forward-looking statements, which relate to future events or future performance and reflect management's current expectations and assumptions. Such forward-looking statements reflect management's current beliefs and are based on assumptions made by and information currently available to the Company. Forward-looking statements include statements regarding the Company's plans to acquire gold and other metal resource properties and that such properties will generate cash flows. Investors are also cautioned that these forward-looking statements are neither promises nor guarantees, and are subject to risks and uncertainties that may cause future results to differ materially from those expected. These forward-looking statements are made as of the date hereof and, except as required under applicable securities legislation, the Company does not assume any obligation to update or revise them to reflect new events or circumstances.
44304962.2
45377186.2